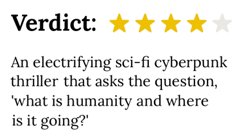 This is the cyberpunk future you feared, not the one you hoped for.
Los Angeles, 2054. No flying cars, no replicant slaves escaping off-world colonies. Instead, the LAPD has armed robot dogs connected to facial recognition databases, deepfake video can make it seem you were anywhere committing any crime, while municipal data services are outsourced on a lowest-bid basis.
In this post-cyberpunk novel, we meet Nadine, failed actress turned office drone. Nadine meets a gorgeous woman at an underground rave, and ends up falling through the looking glass into a world even more dark and violent than the one she knew. She and her friends stumble upon something they shouldn't have seen. They become targets. They are hunted down by police and…other people. Dangerous people. Nadine finds herself in a desperate fight against powerful, ruthless enemies, a struggle for survival that takes her from ramshackle Tijuana Town to the phantom cities of Texas—one of the founding members of the Federation of Free States.
Along the way, she finds up unexpected allies in unlikely places, because the only thing little people have is each other.
"This novel is an absolute page-turner, creating and maintaining heart-racing tension that makes the reader feel like they're on the run too.
Like all the best dystopian narratives (Blade Runner, 1984, The Hunger Games trilogy), it seems this book seeks to sound the alarm but also asks the reader to question what the legacy of humanity will be...
It sticks with you, tackling big ideas like transhumanism, environmentalism, and the evolution of a species. This high adrenaline read is perfect for those who love big philosophical ideas."
—Reedsy review
Important: This purchase grants you both Kindle and ePub files. To download your books, go to the downloads page on your account.
immechanica (eBook)
Product Code: eBook
Availability: In Stock